Our WHOLE child mission statement
Whole child approach to pediatric dental care in Wheat Ridge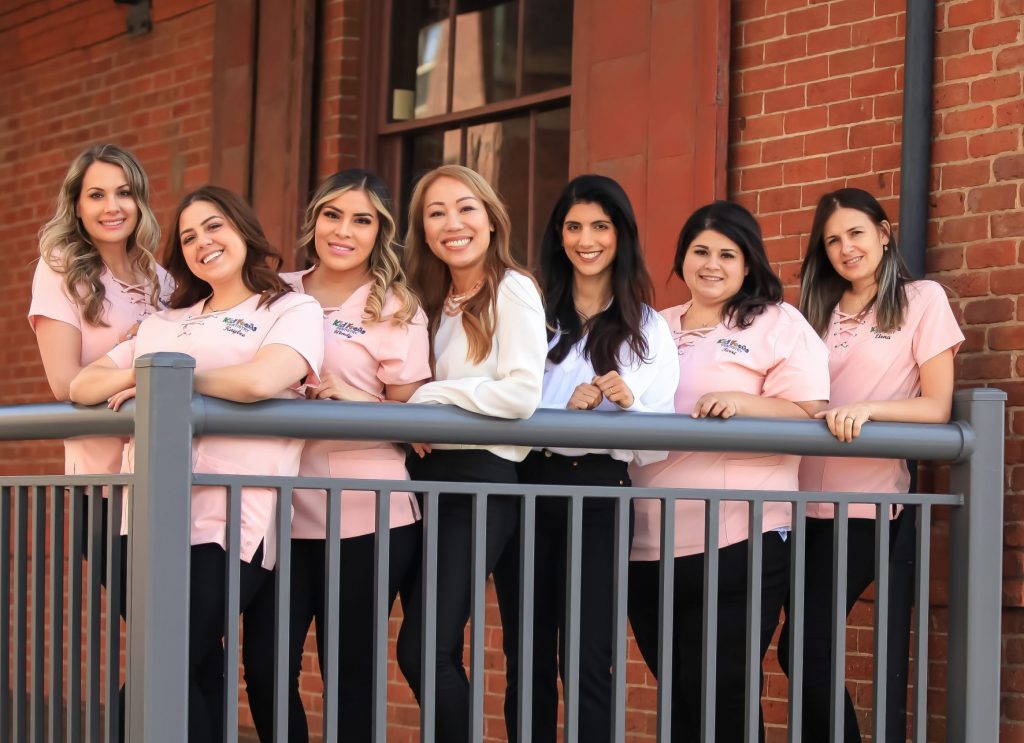 At Kid Focus Dentistry, we don't just look for cavities. Every child who comes through the doors of our Wheat Ridge office deserves a more comprehensive approach. We look at the overall oral health of our pediatric patients, because a child's oral health plays a crucial role in their overall health and development. Your child's oral health affects the way a child breathes, speaks, eats, sleeps, develops, and builds self-confidence. We call this understanding the "whole child approach."
We aim to detect and correct potential pediatric oral problems early so your child reach their full genetic potential. Our early intervention approach yields positive results, including long-lasting oral health, good dental hygiene habits, and a lower lifetime cost to patients (and their parents) by preventing more serious future problems.
---
We incorporate the "whole child" approach to our pediatric treatments in a variety of ways:
1. Our positive behavior management technique
We believe that dental care cannot occur without a positive relationship between us and your child. Hence we only believe in treating with sedation if we exhausted all other avenues.  Firsthand we want to help your child gain coping skills for dental procedures on their own, even if it takes building trust over time. When your child graduates from our office, our ultimate goal is for them to have a healthy relationship with their dental care.  We also hope that they will continue to see the importance of preventative and early treatment care- so that they could be healthier and have a lifetime of lower dental costs.
---
2. Diagnosing your child's cavities
Did you know that where your child's cavities are can often indicate how they got them? We don't want to just find the cavities, we want to know how they got them. By knowing how your child got the cavities, we can help you have better success at preventing future ones.
---
3. Using N20 (nitrous oxide) on most primary (baby) teeth
Did you know that baby teeth do not have the same nerves as adult teeth? For this reason, your child may have cavities without ever letting you know, until they are really bad. This is why when we do baby teeth fillings, we recommend the use of N20. We strongly believe in N20 because when used appropriately, it is the safest option for your child. Numbing medication requires your child's body to metabolize the substance. N20 does not need to be metabolized by the body since it only works while your child is breathing it in. Also, the effect only lasts about 5 minutes after we take your child off of it.
---
4. The way we treat crowding and development in children with myobrace
Most parents believe that crowded teeth are a "problem".  But what if crowded teeth are a symptom of bigger issues instead? Did you know that most often, crowded teeth are a result of your child's oral functional problems? For instance: mouth breathing, reverse swallowing, and having a tongue thrust are all bad habits that lead to long-term incorrect growth development. Which also ultimately has an adverse effect on your child's quality of life. At our office, we use the Myobrace system to help correct these oral habits.  The system not only corrects oral habits, but helps drastically improve your child's sleep, airways, speech, and teeth crowding.
---
5. The use of pediatric laser dentistry
We are using laser as a complementary tool to solve important dental problems for our patients. Laser is used in helping treat tongue tie and lip tie; which play a big role in breastfeeding, speech, and teeth alignment. Also, the laser helps with gum re-contouring after braces. It is also a great tool to treat cold sores; the site heals a lot quicker and future outbreaks in that same area are less frequent. Best of all, laser surgeries promote healing twice as fast as traditional methods.
---
6. Silver diamide fluoride treatments for kids
To help treat very young children that unfortunately have a few cavities, it might not be ideal to use general anesthesia as an option.  As a result, we now use Silver Diamide Fluoride to give your child a better and safer option to contain the cavities until your child is ready for anesthesia.
---
7. Pediatric icon therapy
For those unfortunate few children with Fluorosis or enamel defects on the front teeth we use icon therapy. A great new conservative approach to help treat esthetic problems for your child.
---
Overall, by exploring more than just the traditional ways of treating an oral environment, we take a step back and look at the problems from different perspectives and a comprehensive approach. This allows us to see the long-term consequences that otherwise might be missed when trying to hyper-focus on just one problem/one solution. We try to solve the problem by using dynamic, and innovative tools that help treat your child as a "whole". We truly believe in this approach and that it will not just solve, but help prevent problems.  As well as steer your child to better, long-term, oral development.
Written By: Dr. Ngo