Pediatric laser treatment in Wheat Ridge
Benefits of pediatric laser dentistry
At Kid Focus Dentistry, we are excited to introduce the use of laser dentistry for most of our soft tissue surgeries. Laser treatments offer a variety of benefits over traditional scalpel surgery including: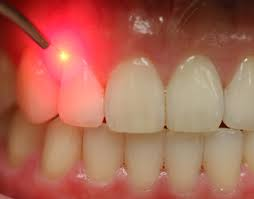 Quite often, due to minimal invasive action and less trauma to the tissues, healing time is cut in half.
More effective and more long-term results:
Laser surgery allows for better healing and lowers the chance of scarring. Which also allows for much better long-term results, especially for Frenectomy cases.
Laser treatment is less traumatic and causes little or no hemorrhaging(bleeding). As a result, the procedure tends to cause less discomfort during and after the treatment.
Since there is little to no hemorrhaging in the surgical site, we require no sutures. Which equals in more comfortable, faster, healing and no follow up visits to remove the sutures.
---
Procedures that we offer using laser dentistry in Wheat Ridge
Tongue-tie and lip-tie release (frenectomy)
Treatment of oral ulcerations like aphthous ulcers or cold sores
Gingivectomy: We re-contour overgrown gums which may be irritated from causes such as, braces.
Soft tissue crown lengthening
Controlled bleeding for esthetic restoration cases
---
What is infant tongue-tie and lip-tie?
Tongue-tie and lip-tie in infants results in incorrect tongue function, as well as airway obstruction, which leads to unpredictable behavior in kiddos. Difficulty breastfeeding is a common symptom.
Here is a quick explainer video about infant tongue-tie and lip-tie that negatively impacts breastfeeding.
---
Infant tongue-tie and lip-tie release surgery
Infants with tongue-tie or lip-tie may require corrective oral surgery known as frenectomy, which we accomplish using lasers.
Anticipating your infants laser treatment can seem stressful and scary, but its easier than you think! We made you a video all about: what to expect, how to prepare, and what to do post treatment.
For our quick video about how and when to perform the infant tongue tie release exercises, click here.
---
Pre-laser treatment exercises for toddlers
Toddlers have a little more difficulty with the laser treatment because they aren't very good at accepting the stretches necessary afterwards. In that case we wait until they are older. But in the meantime here are some steps you can take to prepare them for the best results when the treatment does take place.
---
Speech therapy referrals
Wondering if your kiddo should be referred to a speech therapy? We have resources in our Knowledge Center that can help you determine if your child has speech issues based on age and the specific sounds they make when speaking. Click here for more info.
---
Post-laser treatment instructions at Kid Focus Dentistry
Head over to our Knowledge Center for more information on post-laser treatment instructions. We offer a helpful guide and videos to help you prepare for what to expect. Click here to check it out.