A root canal is considered to be a major dental treatment, so some discomfort is to be expected following the patient's visit.
Since root canal treatment involves the root of the tooth, the most discomfort will come from the gums swelling up as the tissue heals.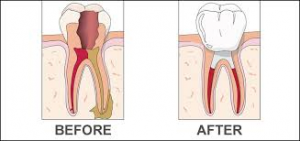 Medication:
To manage the swelling and soreness, we strongly recommend Motrin (or Tylenol, if the patient is allergic to Motrin) for three days following treatment.
For more moderate pain, the dentist will prescribe additional medication.
Once in a while, if a tooth has a severe infection, we will also prescribe antibiotics.
For the first 24 hours following a root canal:
 Avoid putting pressure on the tooth by eating on the other side of the mouth.

Brush and floss normally.
In special circumstances, the root canal treatment may require multiple appointments. It is very important for the patient to come back and complete the treatment as recommended by the doctor.
Written By: Dr. Ngo