Habit Correction Therapy in Wheat Ridge
Dear Parents,
We sent your child home with a removable appliance for oral functional therapy today.  We just want to give you a few tips and exercises that need to be used in-conjunction with the device, in order to get the best result for your child.
1.)
For the first 2 weeks, we would like to your child to wear the device consistently for 1 hour during the day. We would like them to focus on doing simple activities like: reading, watching something, playing on their I-Pad, or home work.
In addition, your child should be wearing the device every night while sleeping.  We understand that this will be an adjustment;  we find that it is much easier if your child is consistent with wearing it.
While sleeping, it is normal for the device to fall out of the child's mouth for up to 3 months.  If this happens for longer than 3 months, it might indicate that your child has some obstructive airway issues.  Please let us know if that is the case.
We recommend that  your child wears the device for at least 3 months but 6 months is preferable.
2.)
After the first 2 weeks, you want to introduce the first exercise in the series that we have linked below. (Tongue on the spot)
Please have your child do this exercise for 2 minutes during the day, everyday. From then on,
From then on, every two weeks add on another exercise from the series.
  Your child should be able to do all 3 exercises in 2 minutes each day.
 These exercises should be practiced for at least 3 months. But we recommend 6 months since your child is doing them without our continuous monitoring.
3.)
Please make sure that your child does not chew on the device.
The device is made to last the wear for around 6 months, however, it cannot withstand the force of repeated chewing.
4.)
After 3 months, and you find that your child is very compliant and you want to further proceed with the Myobrace system, please call our office.
Written By: Dr. Ngo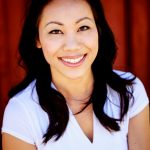 ---
Myobrace Excercises Group 1
Please refer to this video to learn about correct tongue placement, correct swallow, and breathing through your nose.
---
How to Wear Your Myobrace
Follow Faith around as she shows you all the fun activities you could do while wearing your Myobrace.